Z 93.1 "The Lake" – WZMJ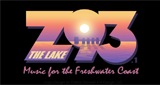 Country:
United States of America
Z 93 is locally owned and operated radio for Lexington County and all of Lake Murray. We redefine music variety everyday, with a proprietary mix of classic hits, classic rock n' roll, crossover country, beach/shag, Motown and vintage R & B rhythms. Plus, WZMJ is the Midlands home of Clemson Athletics. Z 93.1 was recently voted 'Best Of' by readers of Lexington Life Magazine in three categories, Best Radio Personality Ken Martin, Best DJ Mike Willis, and Best Radio Station.
Leave a Review