Christian Radio in Southwest Washington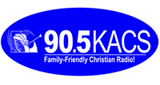 Country:
United States of America
SW Washington's local family-friendly contemporary radio station providing positive programming 24/7. The network is supported entirely by the listeners we serve. With a system of local translators, and two fully licensed FM facilities we serve the S. Puget Sound, Interstate-5 Corridor, Packwood Valley, and SW Washington coastal communities. All locally owned and operated with local hosts giving public service information for area events, organizations, activities designed to meet the nees of your family.
Contacts
Address : 2451 NE Kresky, Unit A Chehalis, WA 98532
Email : kacs@kacs.org
Phone : 3607409436
Leave a Review