100.9 EXtreme Independent Radio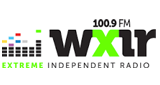 Country:
United States of America
The mission of 100.9 WXIR-LP is to provide City residents with community-focused radio programming with youth outreach, as a focus. WXIR-LP is a low power FM radio station on frequency 100.9 in Rochester, NY. Its goal is to serve underrepresented communities through radio programming submitted by volunteer radio hosts and DJs. WXIR-LP is owned and operated through RCTV Media Center.
Leave a Review